The Buds are on those trees!
March 2008 was a wonderful for us all.. Glad you were all here to enjoy it with us!
Birds were churpin and the buds were growing on the
trees already! Spring is HERE folks! Plant them tomato's soon!
the newer dates are closest to the top of the page !!!!!!

---
CASEYS EASTER WEEKEND 2008 PICTURES!!
3-23-08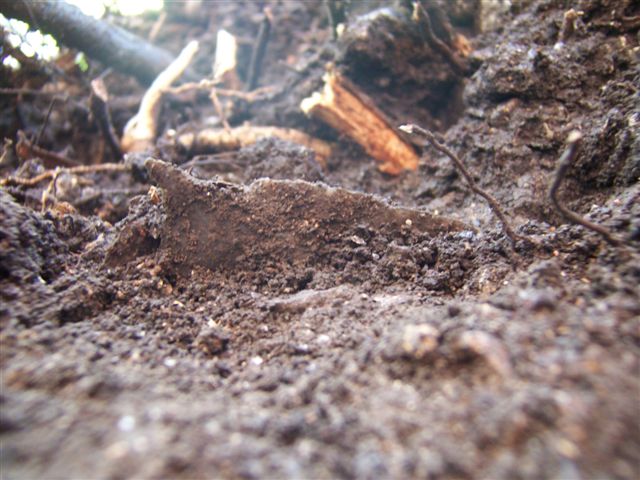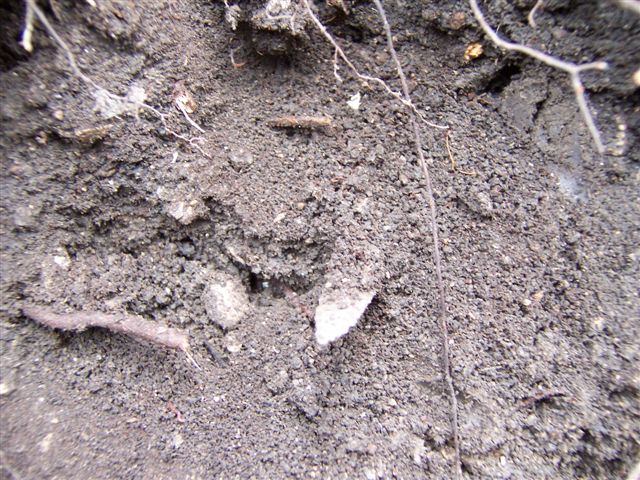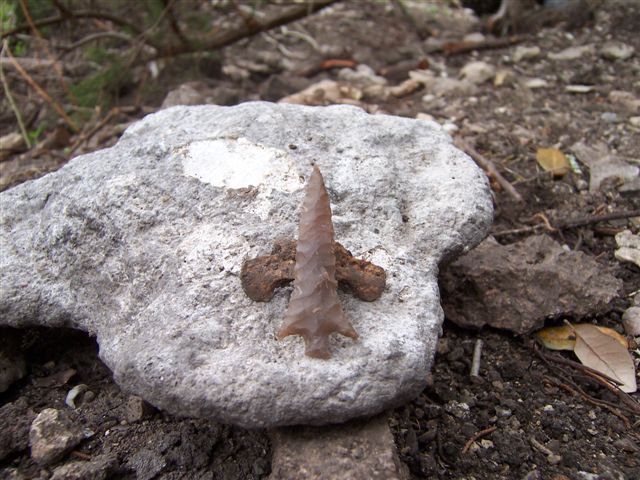 ---
3-23-08
EASTER SUNDAY 2008 UPDATES ARE HERE!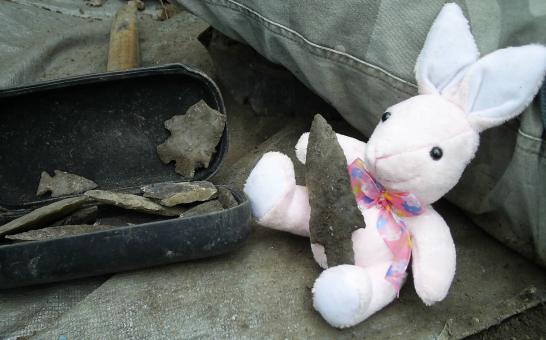 This little stuffed Bunny Hal brought along for easter gave Hal and I all kinds of luck today!
It was a BEAUTIFUL day at the dig site!!!
G10 ENSOR - 3 1/2 in PERD - and a KILLER CASTROVILLE .. and a pile MORE!! COME LOOK!!
There was also a unexpected easter egg hunt!! Hal hid plastic eggs in my dig path!
Thanks hal!!!! Now where's the white chocolate ? heh
Poor little bunny got dirtier and dirtier as the day went on .. as you will see!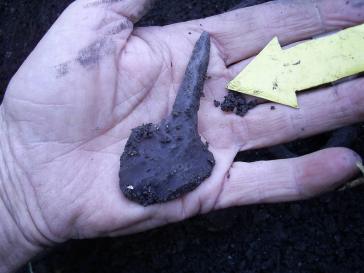 Here is a great INSITU of a Paddle Drill that Hal found!! Look at that little sucker peeping out of the dirt!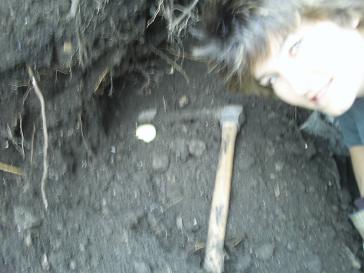 Here is one of my Easter Egg's posing with the 3 1/2 PERD I found today!!


Here is another Easter Egg posing with a MORRILL that Hal dig up too!!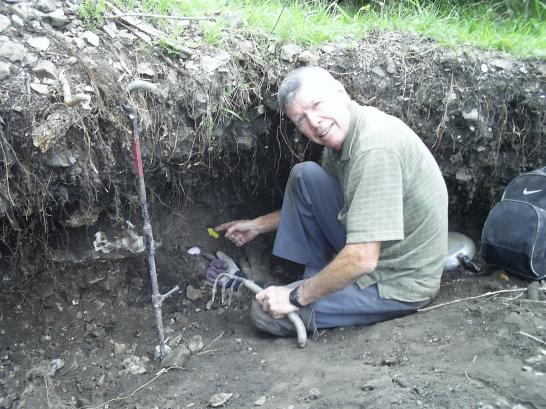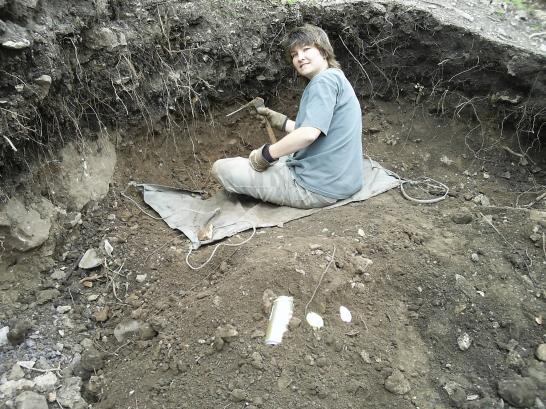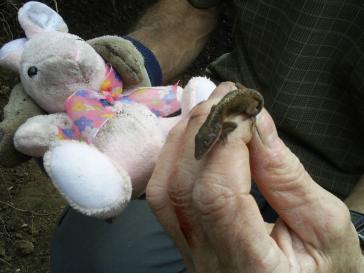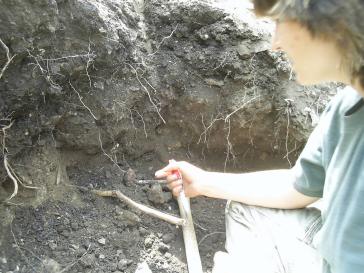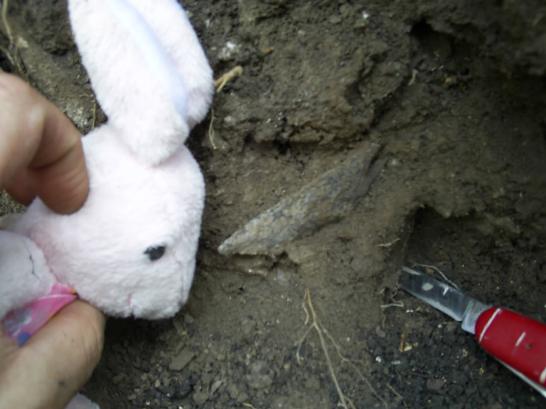 BUNNY IS SAYING ! HAY!!! YOU ARE GOING TO POKE SOMEONE'S EYE OUT WITH THAT THING!!!
WOA!! IS THAT WHAT I THINK IT IS!!! LOOKIN A CASTROVILLE RIGHT IN THE BUNNY EYE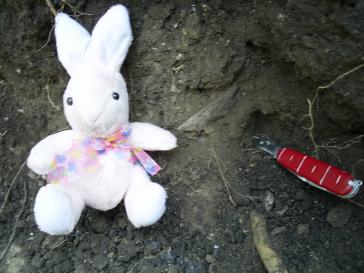 DOESN'T HAPPEN OFTEN ENOUGH - MY POINTS HOLDER RUNNITH OVER! WHATTA HAUL!!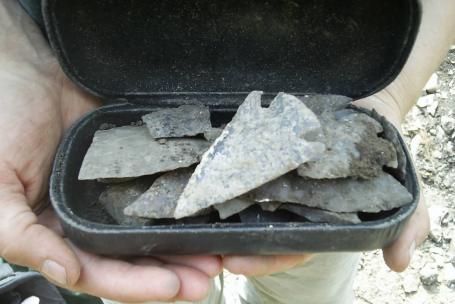 HAY HAL ! - REMEMBER THE FUNNY BASE PERD? CHECK OUT THE TOP OF PG. 613 -
LANGTRY !! - LEARN SOMETHING NEW EVERYDAY !


HAL TOLD ME TO CHECK MY THROW PILES!!
WOA!!! PLASTIC EGGS AND A COLD BEER!!!!!!!!!!! THANKS HAL!!!!!!!!!!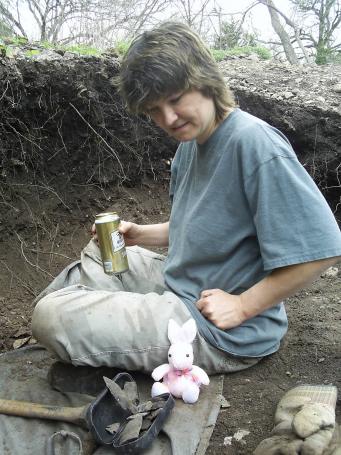 EASTER SUNDAY LOOT - HECK OF A DAY!!


Here are a few "sky" shots with Hal's new nifty little point holder for pictures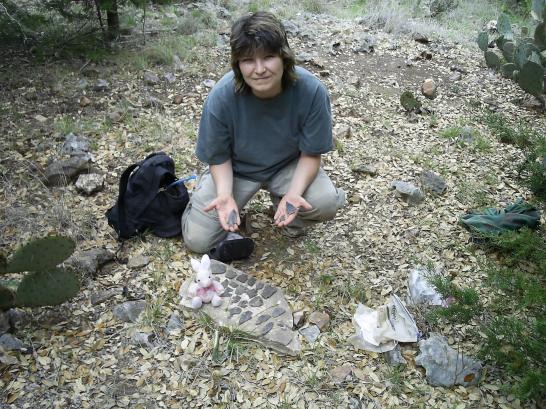 Ok !! Time for us and our little dirty face bunny to go home now!
Thanks for looking and remember to check back for more next week!
---

AUSTINDIGGERS FLINT GANG - CACEY THROWING OUT HIS GANG SIGNS!
DIG VATO'S !! DIG !!

---
3-17-08
Here is what we have been up to the past few weeks.. DIRT I TELL YA!
Dirt all the way up to my EYEBALLS! Thanks for popin' in and here are some of the great
finds from the past couple of weekends!
Happy St. Patrick's Day ! And some green beer to end the day off right also!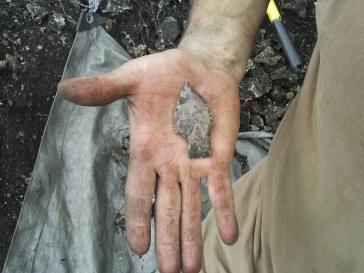 Here is a show of Dan's NOLAN that he SAVED from the worms and ants!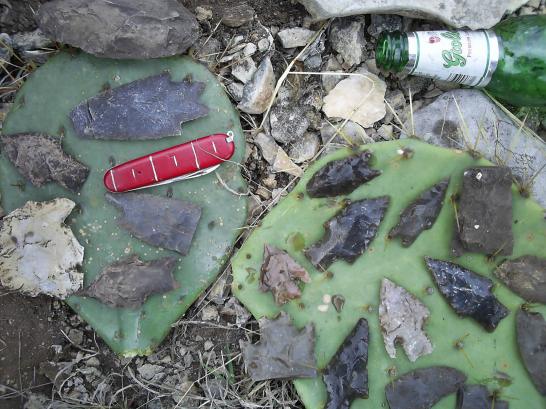 Dan got a GREAT BIG OL' PERD!!!! WOW Whatta BEAUTY!!! And a needle tip one also!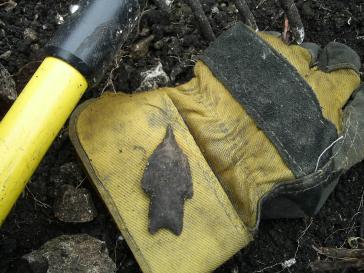 ---
3-16-08
Took a little lookie lou at a old place today.. Its about 80% gone now.. Darn SHAME! But there
is always hope for the future!!! Nothing that a little blood , sweat and water won't fix!
Anyway we at least caught that SPY that was watching us that day too!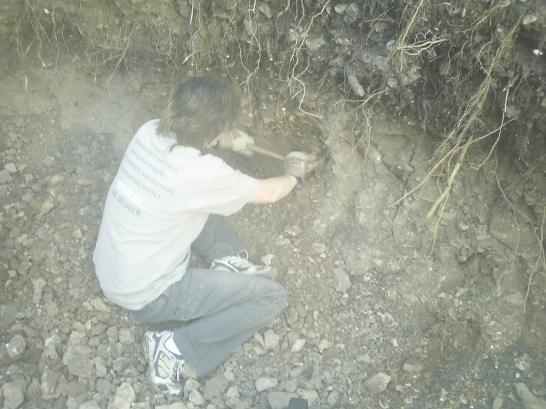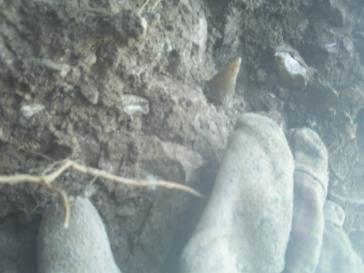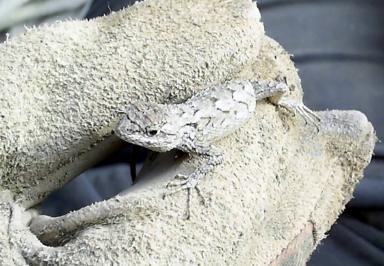 I felt you watching us !!! Couldn't hide!!! Trying to be all quiet and there you go, just falling right
in the hole?? What were you thinking?? That we wouldn't SEE you?? Well watch it next time there little buddy!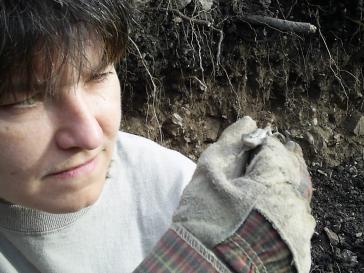 ---
3-8-08
Here are all the Gang out at Scratch doing a little diggin around!


Workin the Wall - Workin the Wall !
Diggin back in where our friendly neighborhood butt head screwed the holes up
We will NOT be leaving you ANYMORE clean holes Mr. Nice Guy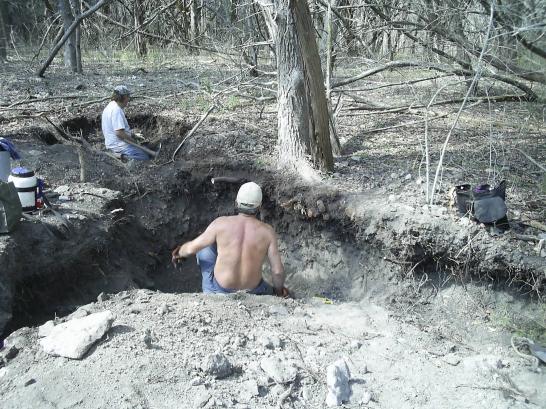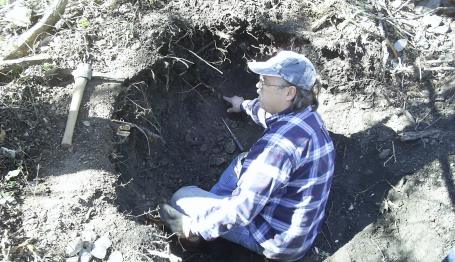 Here is JAMES with his Happy Face on !! Found himself a GREAT MONTEL!!!
And to be safe wrapped it up in about 40yards of TP for the safe ride home! heh


These are the combined finds from James - Hal and Casey for the day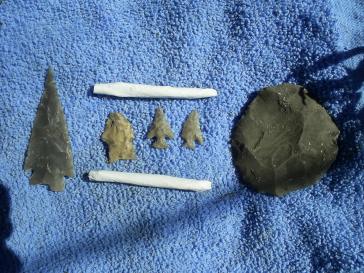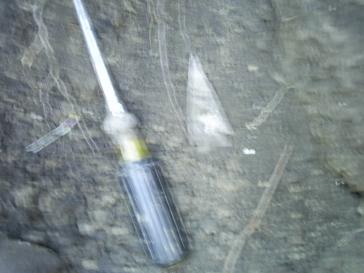 I am not sure what those type of points are..( I will ASSUME that they are Bugler's )


But I did find one in the parking lot
of Chrisners on DIGFEST .. and whom ever lost it.. THANKS!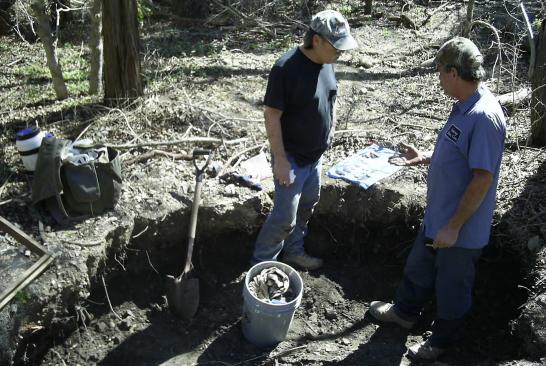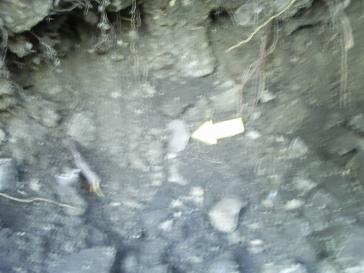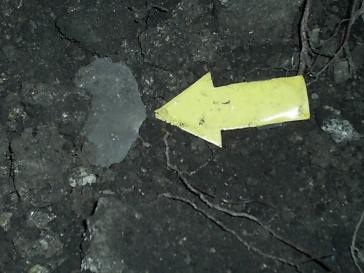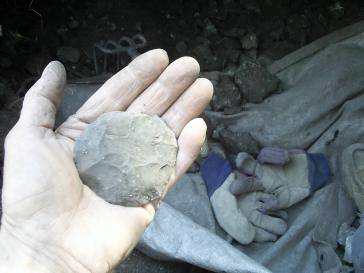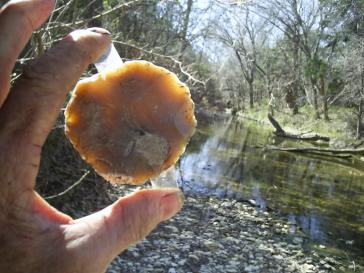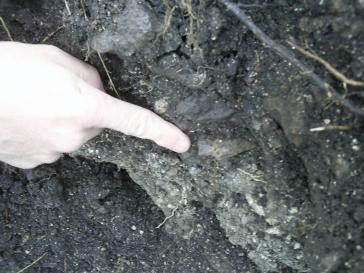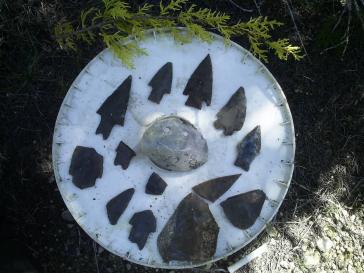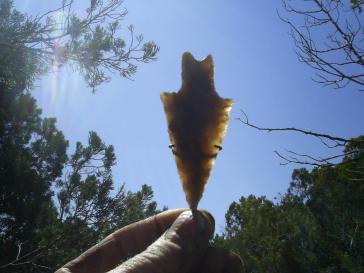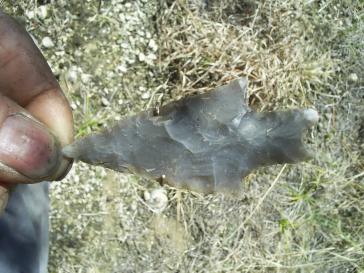 ---
3-9-2008
Just can't get away from these arrowheads!! Here is Bedrock Jack pulling out a
find point from this great little layer that we have all been pecking at for months.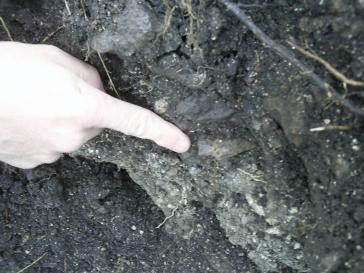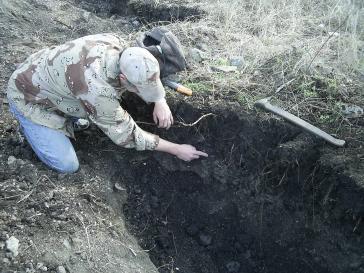 The Cow that looks just like one of the diggers Dogs was over seeing the
whole operation today. Doesn't it look like a cow to you? heh
Thanks for showing up yall and posing for a few! Glad to see some clean diggers workin for a change!
And nice to see some old faces again too! That there is a buncha' diggers!
Ronny Cash - Bedrock Jack - Shallow Hal - Driller Ken (Thanks for the condiments) and me! I am just the Pecker!
I gotta get a better nick name soon dontcha' think! Hal doesn't like the way I "Peck" with my
wiggle pick! heh Pecker.. Sounds rather RUDE! heh how about Midden Michelle ?????
---
3-7-2008
Hal went out on his own to a old area to do some pokin around today and
he did rather well! Thanks for taking the pictures!! And of yourself even!!! Where he carries that tripod I will never tell!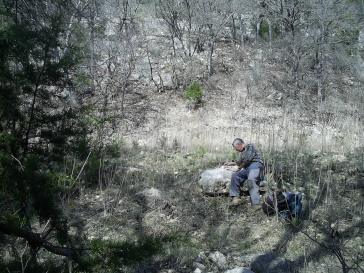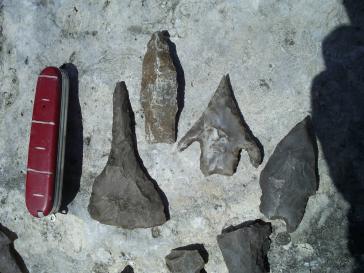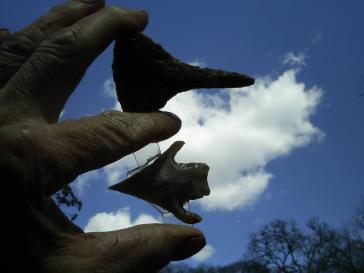 ---
3-4-2008
THE FORGOTTEN ISLAND!
Ok a WHOLE midden - dug over 4 years.. and here is this ISLAND.. Just SITTING here .. RIGHT in the MIDDLE of the
whole place!!! We have walked past this area for YEARS! Since we dug the other side of the fire rock pit..
And this was there .. Waiting for me .. the whole time!!!!!!!!
Here is what was IN and UNDER "THE FORGOTTEN ISLAND"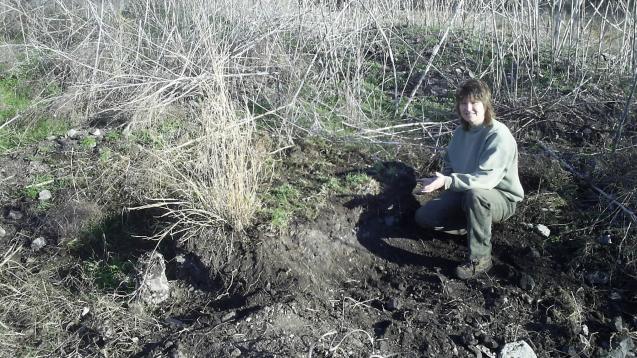 Now.. HOW can ANY seasoned diggers NOT SEE THIS????
I cleared a little tall grass away and POOF! There it is!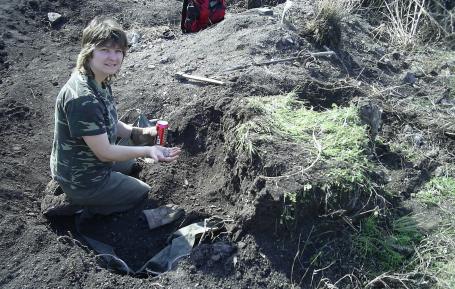 THIS LITTLE CHUNK WAS JUST TOTALLY MISSED! LOOKS GOOD TO ME THOUGH!!!!!
TA DA ! IT WAS GONE ... 4 YEARS IN THE MAKING !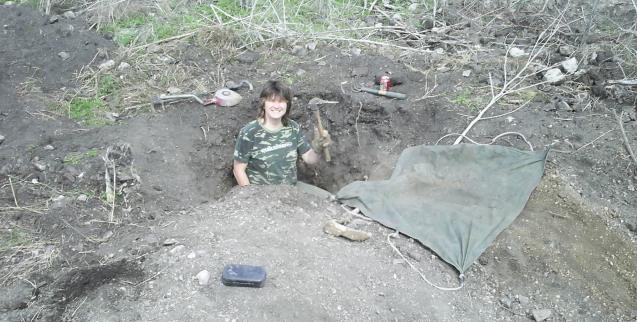 WENT UNDER ABOUT 2 FT - PLENTY OF FIRE ROCK AND FLINT - JUST NOT ALOT
OF WORKED ITEMS IN THE LOW AREA - CAN ALWAYS GO BACK LATER AND NOSE DIVE IN IT
THESE ARE ALL THE FINDS FROM THE ISLAND AND UNDER IT TOO !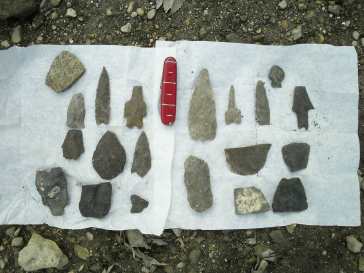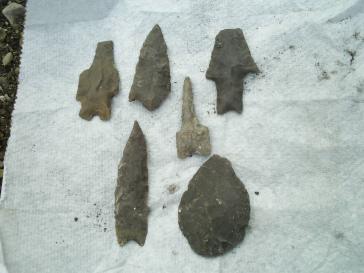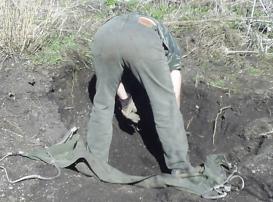 THE END
( I GOTTA REMEMBER TO WATCH THAT HAL AND THE CAMERA FROM NOW ON! )
---
3-2-2008
What a wonderful start of the month !!!
BEAUTIFUL weather will Hal and I all day! It was overcast and windy and perfect
digging weather! Very few fire ants for me.. Hal did get Ant's in the Pants a
few times though! I did fine with them! Na Na Na Na Na Hal! They must like that old meat!


Blood - Sweat and Tears ! We took this hole to china today
FOLLOW THE FINGER IN THESE NEXT FEW SHOTS
TO SEE WHERE THIS POINT WAS THAT I FOUND.


ITS STICKING ALMOST STRAIGHT UP OUT OF THE GROUND!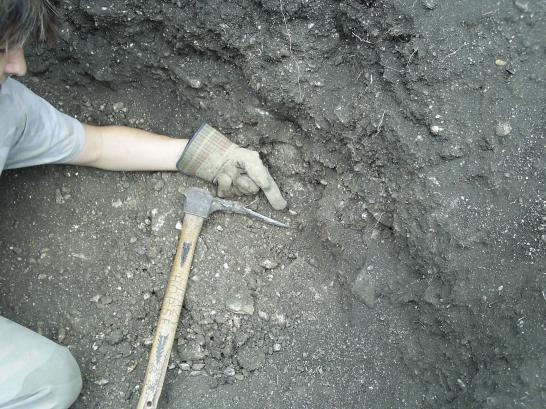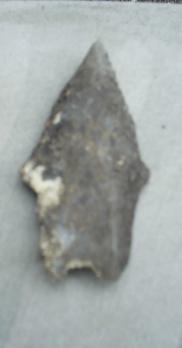 YOU SEE HOW LOW I GOTTA GO!
This little perd was BELOW the Nolan I found! Ahh! The HORROR!!!
Just means we gotta take this 5ft+ deep hole down a few more notches!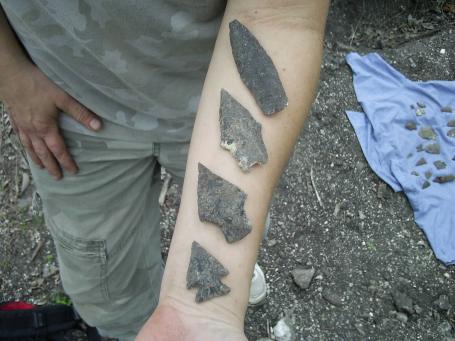 HERE ARE A FEW OF THE FINDS FROM THE NEW HOLE
A LITTLE BIT OF EVERYTHING - TOO BAD THEY WERE LAYERED RIGHT!
THE MARCOS WAS LOWER THAN THE PERD
THE NOLAN WAS ABOVE THE TRAVIS! AHH! GOTTA GO DEEPER IN THIS ONE!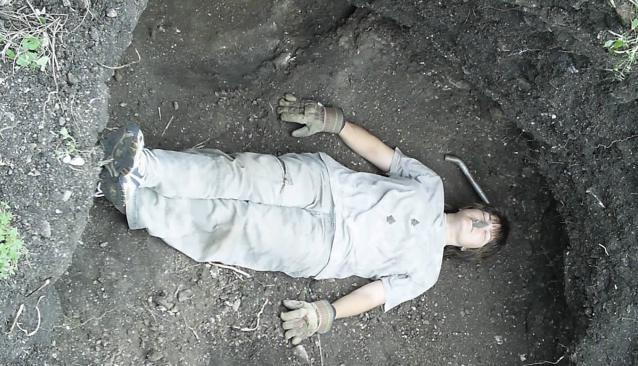 SAY CHEESE ! HAY ! I AM TRYING TO SLEEP HERE ! LEAVE ME ALONE WITH MY POINTS!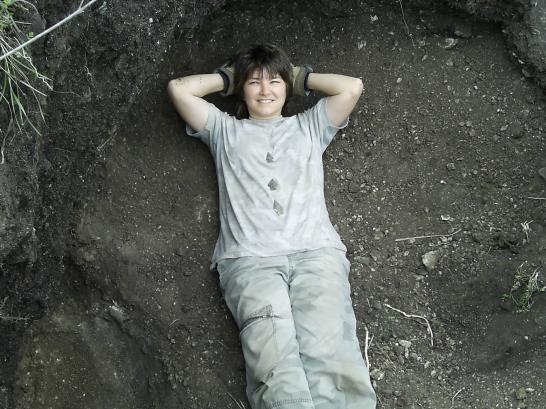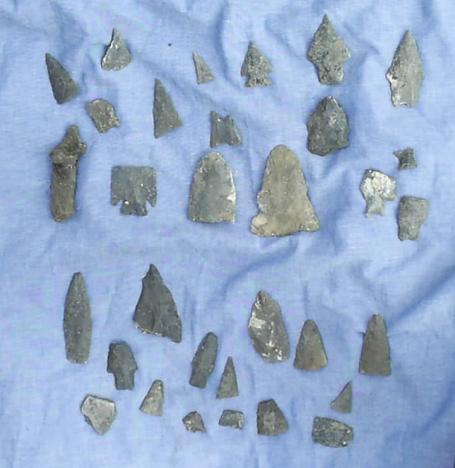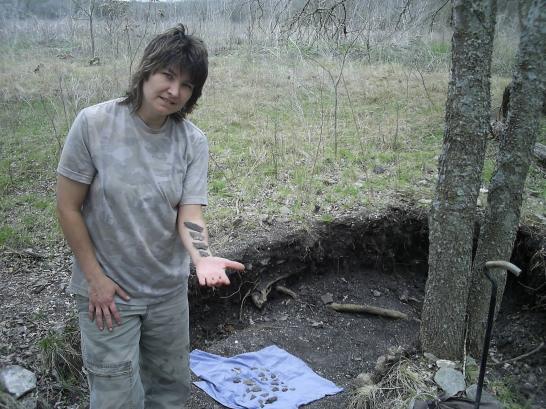 ---
3-1-08
HERE ARE SOME FINDS FROM JAMES AND CACEY
DOING THEIR THANG AT ONE OF THEIR SPOTS!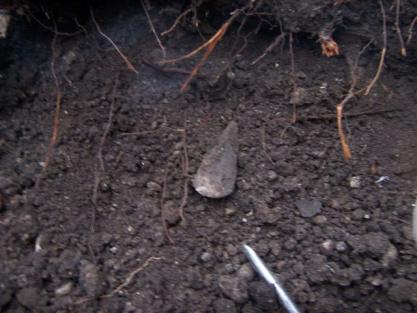 JAMES FOUND THIS NICE LITTLE BLADE!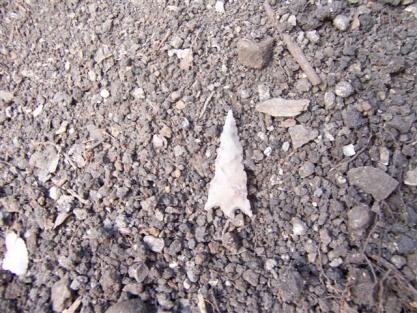 CACEY GOT DARL AND PERD AND BIRDIE TOO!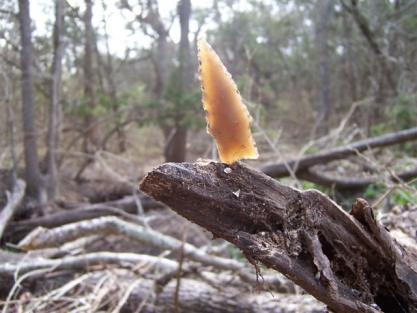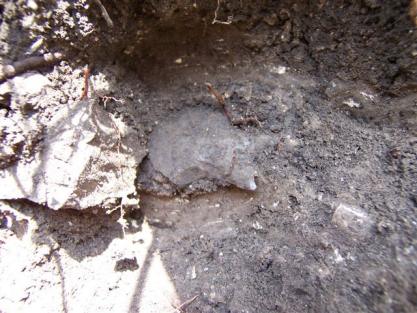 YOU UNDERCUT OUR HOLES - WE BREAKA YOU FACE!
THAT'S WHAT WE SHOULD HAVE ON THE T-SHIRTS!