austin Area Arrowheads Hunters and Paleontological Texas
Arrowheads, Pay Digs, Indian Artifacts, Archaic Tools and Fossils from Texas. If you "Dig Texas" there is a link for you
WELCOME TO DIGFEST 2013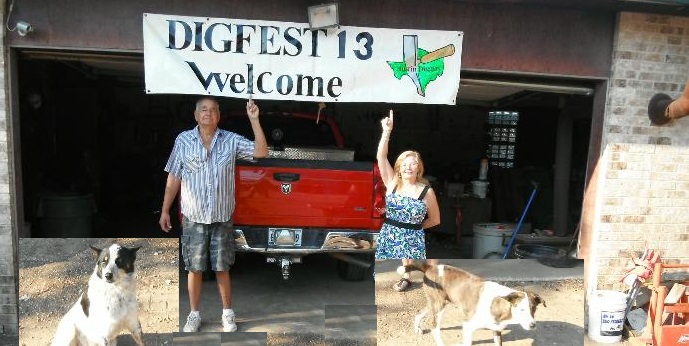 8TH ANNUAL - DIGFEST 2013
CHRISNERS RANCH
17120 Moody Leon Road
Moody, TX 76557
HORSECREEKNANNY@YAHOO.COM

(CLICK HERE FOR DRIVING DIRECTIONS)

CLICK HERE FOR MAP OF THE PROPERTY IF YOU WANT TO PRINT ONE BEFORE YOU ARRIVE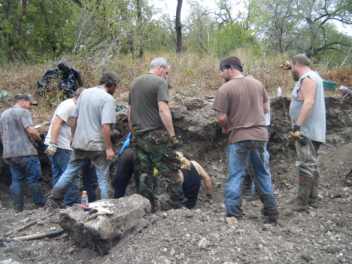 Payments will be taken at the Entrance or Garage
$30.00 ENTRY FEE FOR DIGFEST13
*** KIDS UNDER 11 NO CHARGE ***
SATURDAY'S CAMP / DIG WILL BE $20 FOR THE DAY -
WE COME AND CAMP / VISIT / FLINT CHAT THE NIGHT BEFORE DIGFEST.

THE 8TH ANNUAL DIGFEST 2013 WILL BE A BIT DIFFERENT THIS YEAR. BECAUSE OF SCHEDULES - ECONOMY - TIME - AND JUST NO WATER - THERE WILL NOT BE ANY PRIZE DRAWINGS OR FOOD THIS YEAR. WE ARE GOING TO JUST HAVE A GOOD OLD YEARLY GET TOGETHER FEST THIS YEAR! HOPE TO SEE ALL THE REGULARS AGAIN THIS YEAR!
DIGFEST WILL ONLY BE $30 FOR THE "HOLE" DAY ON SUNDAY 8)
ITS $20 FOR SATURDAY ALL DAY FOR DIGGING AND CAMPING - IF YOU HAVE ANY QUESTIONS EMAIL
ITS ON ! GET YOUR GEAR PACKED!
WE WILL HAVE A LOT OF YOUNG ADULTS AND AUSTINDIGGERS.COM MEMBERS
SIGNED UP FOR THE DIG + THE CHRISNERS HAVE OTHER PEOPLE THAT THEY
KNOW ARE COMING AS WELL! - LETS ALL HOPE FOR A DRY DIG!
SEE YOUR PREVIOUS DIGS!
DIGFEST 2012
DIGFEST 2011
DIGFEST 2010
DIGFEST 2009
DIGFEST 2008
DIGFEST 2007
AUSTINDIGGERS DIG 2005
EMAIL ME HERE WITH ANY QUESTIONS -
THIS YEAR IS JUST A LOW KEY COME AND DIG DAY !
REMEMBER TO BRING
Digging Tools - Stool if needed -
Water - Food - Spirits
Gloves - Extra TP - Tents if attending Saturday Nights Camp Out
there will be some trenched / scraped areas
The idea is to remove years of shallow digging around
the old proven camps. This will accommodate "diggers" of all
experience...Dig newly exposed areas, rake through
removed dirt, surface hunters dream
come and enjoy the evening before camping
and the day of digfest, enjoy some fresh areas to get dirty
There are plenty of camps for everyone to find a area
to dig and have some fun!
Be sure to visit ALL the camps on the property !
there will be blue - yellow and red arrows pointing to dig camps.
CLICK HERE FOR MAP OF THE PROPERTY IF YOU WANT TO PRINT ONE BEFORE YOU ARRIVE