AUSTINDIGGERS.COM EXCLUSIVE - THE ONLY ARROWHEAD GAME ON THE NET -WORK ALL THE LEVELS AND DIG SOME POINTS!
Kathy sends in this wild little drill!! She is 74 and can see better than me! Wow I sure would have missed that one! Congrats!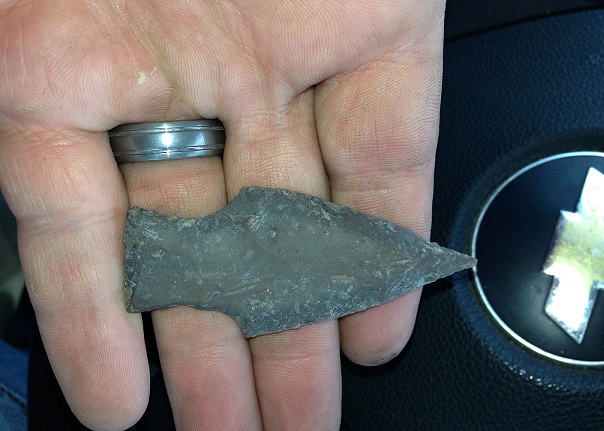 Bert D. sends in this GREAT Nolan Hayes County ! Look at the point on that ! I would one spooked deer! Thanks Bert!
David L. sends in this lil beauty from Bert D. sends in this beauty from North of Kerville - THanks for sharing David!
FREE SHIPPING FOR THE HOLIDAYS! CALL OR EMAIL MICHAEL TODAY AND ONE FOR THE SPECIAL DIGGER IN YOUR LIFE! THERE TOOL THAT KEEPS ON GIVING!
Photos of carved rock, front and rear, recently removed from the Tennessee River during bridge construction in North Alabama-farm fresh. Owner is interested in an appraisal , or sale/trade - Rock weights 33 lbs, 12" high, 8" thick - EMAIL DAVID M HERE
Roy L. sends in this beauty that hs says that he found "Walking in a field after the rain" Alex, I guess there is no use walking throu if I see YOUR shoe tracks! GREAT EYE !
David K sends in these KILLER TOYAH'S from Presidio county!
Are you checking in with Bob McWilliams from http://diggingtexas.com/ for more news and updates about their new digs! Bob is changing to a new digsite - be sure you check in for info !!!!
Shane sends in the great huge drill!!! look at that!!! what the heck were they drilling though! I wannta know!!! GREAT FIND SHANE!!!!!!!!!!
EMAIL MICHELLE YOUR PICTURES FOR THE FRONT PAGE
CLICK HERE! DON'T BE LEFT OUT!
13 years 100% FREE ! No Fee's ! No Dues !
No subscriptions ! Free Advertising !
Why pay to flip thru flint ! Site Fee's paid via 100% donation from users ! What a great concept huh !